NEWS
Joaquin Phoenix Poster Brings Back the Beard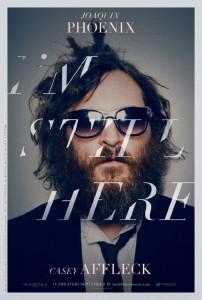 Joaquin Phoenix's crazy bedraggled beard is back in full force on the film poster for the mockumentary I'm Still Here: The Lost Year of Joaquin Phoenix. Last month, the Casey Affleck directed film was picked up for distribution and release by Magnolia films and it looks like the film is a reality!
Wonder where else Joaquin's crazy face will appear — Billboards? Benches?
Article continues below advertisement
The hype for the film — which documents Joaquin's transition from actor to hip-hop star — will hopefully detract from the current sexual harassment lawsuit facing director Casey.
Ex-employees, who worked with Casey on the flick, filed a sexual harassment lawsuit against the actor at the end of last month.
OK! NEWS: CASEY AFFLECK'S LAWYER RESPONDS TO SEXUAL HARASSMENT LAWSUIT
But, Casey's lawyer claims that former producer Amanda White's claims have no merit.
"Ms. White was terminated from the production over a year ago," Michael J. Plonsker told PopEater.
Nicole Acacio, an associate producer on the film, told E! News that her jaw dropped when she heard about the women who have come forward with lawsuits.
"I worked with the accusers, Magdalena Gorka and Amanda White in a limited capacity on the film," Acacio said.
Article continues below advertisement
Magnolia president Eamonn Bowles confirmed last month that the film — which chronicles Joaquin's journey from A-list actor to MC — is slated to release on September 10.
"No matter what I thought coming in, I came out feeling this was a pretty amazing piece of work, jaw-dropping but dimensional," Bowles said.
"It is going to get a lot of attention, but it is not some cheap stunt where they said, 'Let's do some wild stuff and film it,' " he continued. "It is extreme behavior but really good filmmaking as well. Frankly, some of the behavior is very extreme. But it is in the context of the insanity of being in Joaquin's life for that period of time. It is a unique piece of work that is going to surprise people in different ways."