NEWS
Job Or No Job Premiere Recap: Gabrielle McBay Forgets Her Resume And Swears During An Interview – Can Jane Buckingham Still Help Her Land A Job?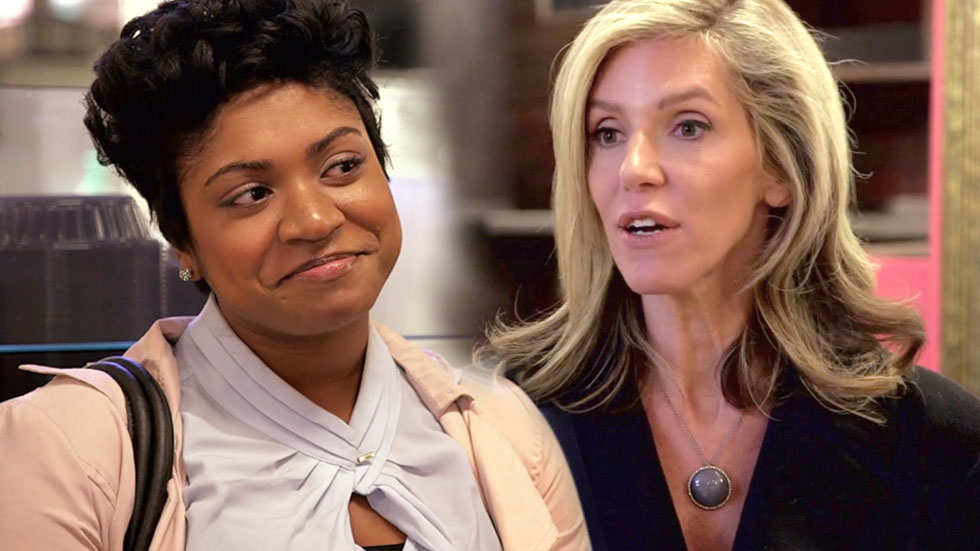 Jane Buckingham has only met one job seeker so far – and she already has her work cut out for her!
On the series premiere of Job or No Job, the Job Genius meets Gabrielle McBay, a private chef from Dallas, Texas who aspires to own a restaurant chain one day.
"Gabrielle has had some early success as a private chef and as a manager of a school cafeteria," Buckingham explained. "But she wants to find a new growth opportunity to help her achieve her ultimate dream."
Article continues below advertisement
Interested in working alongside restaurant management, back of house (food handling) or front of house (guest handling) in Chicago, McBay leaves for Illinois and goes on her first interview with Debbie Sharpe, Founder of Goddess and Grocer.
PHOTOS: They Did What?! Check Out The Crazy Jobs These Celebrities Had Before Stardom
During the interview, McBay does the unthinkable: she forgets her resume!
"Not bringing your resume is like showing up to your wedding naked," Buckingham told her following the interview.
But that wasn't the only critique Buckingham had, as she also explained how her energy was "really low in the beginning" of the interview.
With Buckingham's critiques in mind, McBay went on her second interview – with her resume in hand! – to meet Art Smith at his restaurant Table 52.
When Smith offered her a biscuit, she not only stuffed her face, but she also dropped a piece of it down her blouse!
ABC Family's New Original Reality Show Job Or No Job Helps Young Adults Land Their First Jobs
Article continues below advertisement
"There is a party going on in my mouth, holy sh*t," she said, as a speechless Buckingham watched in shock.
Although Buckingham commended her for improving, she said that she let her guard down too much by cursing. "It is very risky to curse in an interview," she said. "It worked for you, you are lucky."
When it was time for her third and final interview with Michael Muser, Co-Owner of Grace Restaurant, she was asked to memorize ingredients of a dish and describe them to the customers.
On next week's episode, viewers will meet Gigi McDowell, who leaves her hometown of Grand Prairie, Texas for Nashville, Tennessee to pursue a job in event planning.
During the episode, McDowell will interview for Infinity Events and Catering, Randi Events and Angela Proffitt Events.
Will she land her dream job with the help of Buckingham just like McBay did? To find out, check out Job or No Job Wednesdays at 9pm ET/PT on ABC Family.