NEWS
Joe Gorga May Never Forgive Sister Teresa Giudice on 'Real Housewives of New Jersey'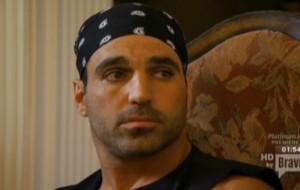 After the huge christening blowout on the premiere of The Real Housewives of New Jersey, tension has remained high between Teresa Giudice and her brother, Joe Gorga. On last night's episode, Teresa took the first step in trying to mend their relationship by writing her brother and sister-in-law, Melissa Gorga, an apology letter. But Joe is not ready to grant Teresa forgiveness.
Teresa extended an olive branch of peace to her younger brother, Joe, by writing a letter to him.
Article continues below advertisement
She began the letter with, "Sometimes when we speak, neither one of us really listens," speaking to their hot-headed tempers. She continues to apologize for hurting him and his family and asked if he would meet her face-to-face to mend their family.
Melissa was shocked with the apology, but Joe wasn't having it.
Catch clips from last night below!