NEWS
Teresa Giudice Calls 'Real Housewives of New Jersey' First Episode "Heartbreaking to Watch"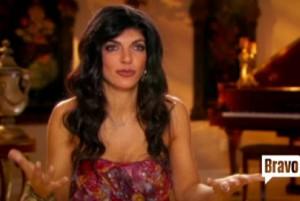 If you thought last night's premiere episode of The Real Housewives of New Jersey season three was shocking, you weren't the only one! Even Teresa Giudice was shocked by watching her family fight on TV.
OK! NEWS: DANIELLE STAUB — GOODBYE, REAL HOUSEWIVES OF NEW JERSEY, HELLO, STRIP CLUB
"I'm sorry I can't start this blog with all kinds of excitement, because I don't feel like there was much to celebrate in this first episode," Teresa wrote on her Bravo blog. "It was beyond heartbreaking to watch."
Article continues below advertisement
For Teresa, the first episode and the entire season have been difficult to film.
"My brother and I have always been close. Yes, when he got married things changed, but we were still close," she explained. "The whole idea of a full-blown feud is crazy to me. I think you can tell by how shocked I was at the christening that this was an unexpected problem."
And according to Teresa, everything was fine between them before that day.
Article continues below advertisement
"To see what happened when I wasn't in the room, to watch my brother run after my ailing father and insult my mother — it's just too much. My family doesn't deserve this," she wrote. "I'm not going to trash anyone in my family or pick through every one of Melissa's lies. I'll let her speak for herself, and you can decide whatever you want to believe."
"I know who I am. I love my family. I love my friends. And I love my fans," she concludes. "I'm so proud of my wonderful husband, Joe. He always stands up for me and my family, and he kept his cool."
While Teresa may not want to pick apart Melissa in her blog, Melissa doesn't seem to feel the same way with her Bravo blog.
"She has never been happy for her brother or cared about anything good going on in his life or his children's. She only wants to discuss her life and only cares about herself," Melissa writes about Teresa. "She kept us as far away during Season 1 and Season 2, because I think she knew this would happen when they found us. Karma is a bitch. Family comes first for me, but unfortunately it does not for her, and it never will. It's just not who she is, and that's OK, but don't think we are going to go on national TV and be fake with you. We are not fakers, sorry."