NEWS
Joe Manganiello Talks 'Two and a Half Men': "Ashton Gets Naked"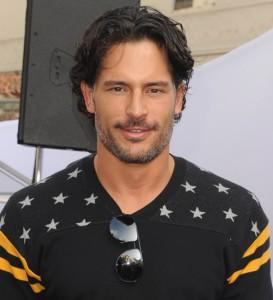 True Blood babe Joe Manganiello took time off from flexing those fabulous muscles to chat with reporters at the world premiere of IRIS — A Journey Into the World of Cinema in Hollywood Saturday. The newly single actor opened up about his guest spot on Two and a Half Men and revealed that — surprisingly — the person on set that day dropping trou wasn't him!
Joe said that working with new Two and a Half Men addition Ashton Kutcher "was great. It was hilarious. We had a lot of fun."
Article continues below advertisement
Though playing rivals who "square off" in the episode, Joe and Ashton did have the chance to get to know each other a little after shooting —though often the get-to-know-you part comes before the seeing-them-naked part.
The bearded bachelor also added that he could see Ashton's wife Demi Moore following in his footsteps and guest starring on Two and a Half Men.
"I think she would be great," Joe told OK!.
By Sadie Gennis with reporting by Gena Oppenheim