NEWS
'John Carter' Star Taylor Kitsch "Embraced" the Loincloth: "I Hope I Look Decent In It"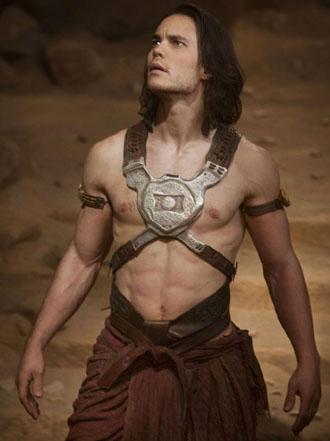 Disney's fantasy film John Carter is finally hitting theaters on March 9 and at the premiere last night, the movie's star, Taylor Kitsch, admitted, "it's about time!"
"I'm pumped, proud, chest out to be honest," Taylor told Access Hollywood on the red carpet. "It was such a journey for all of us. I just cant wait to share it with everyone. It's about time we get to share this thing!"
And by this "thing," does he mean his rock hard body in a loincloth? Maybe.
Article continues below advertisement
OK! GALLERY: TAYLOR KITSCH & WILLEM DAFOE AT THE PREMIERE OF JOHN CARTER IN L.A.
"It would be silly, if on the first day of hitting camera, for me to be like 'Hey Andrew Stanton, can I just put a shirt on? I'm not feeling really comfortable,'" Taylor joked. "Being shirtless is what it is. It's part of the journey part of the character."
"You embrace it the loincloth, move forward and work hard so you look decent in it," he added of his wardrobe.
Not surprisingly, Taylor, who is known for playing hunky footballer Tim Riggins in the series Friday Night Lights, looks "decent" in his loin cloth... OK, more than decent!
OK! VIDEO: WATCH THE TRAILER FOR BATTLESHIP, FEATURING RIHANNA, BROOKLYN DECKER & TAYLOR KITSCH!
"I didn't do any of my stunts. Not one," Taylor joked. "I was sleeping and napping in my trailer the whole time."
In reality, Taylor did 98 percent of his own stunt work, including an 85-foot jump in a crucial scene of the movie. "Many bumps and bruises" Taylor admits, "Groin tears to high ankle sprains to good cuts. I would have loved a bruise on somedays to what I was dealing with."