NEWS
John Galliano Says Making Kate Moss' Wedding Gown Was His "Creative Rehab"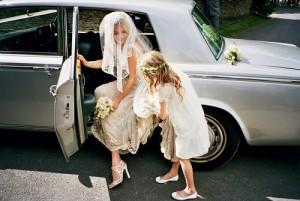 Former Dior designer John Galliano — whose standing in the fashion community crumbled after an alleged Anti-Semetic outburst at a Parisian cafe in February — is speaking out about his collaboration with Kate Moss on her one-of-a-kind chiffon wedding dress, featured in the September issue of Vogue.
In Vogue, the 53-year-old British designer says that dressing the supermodel for her big day rejuvenated his creative power.
Article continues below advertisement
And Kate maintains that she feels "so comfortable" in his dresses.
"When I put the dress on, I'm really happy. I forget everything," she gushed.
In June, John testified that he remembers nothing about using anti-Semitic slurs because he suffers from a "triple addiction" to alcohol, barbiturates and sleeping pills.
"After every creative high, I would crash and the alcohol helped me…helped make Dior a billion-dollar business," he said on the stand.
Article continues below advertisement
He was charged with "public insults based on the origin, religious affiliation, race or ethnicity" against three people, after the Feb. 24, 2011 incident.
OK! NEWS: JOHN GALLIANO'S TESTIMONY — "I HAVE A TRIPLE ADDICTION"
His dismissal from Dior, the fashion house he called home since 1997, came during Paris Fashion Week. His remarks shocked the fashion world and ultimately cost him his job at the renowned French high-fashion house.
If convicted, Galliano could face up to six months in prison and be required to pay $32,175, as French law prohibits public insults toward others because of their origins, race or religion.