NEWS
John Mayer is Obsessed With 'The Bachelor': "It's Not a Guilty Pleasure... Just Pleasure"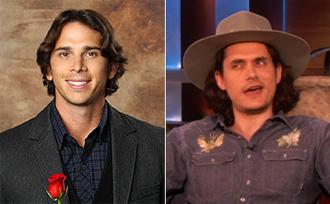 Out of all the celebrities on the planet, you probably never would have guessed that John Mayer — yes, the same John Mayer who dated Jennifer Aniston — had an obsession with TV's ultimate reality dating show... The Bachelor.
During his appearance on The Ellen DeGeneres Show yesterday, Ellen DeGeneres revealed that she and John share a bond over the ABC show, which just aired it's 16th season with Ben Flajnik, who proposed to the controversial Courtney Robertson. (Not to mention that Emily Maynard's season of The Bachelorette just premiered on Monday night).
Article continues below advertisement
But it's not the contestants John likes, it's the crew behind the scenes who are editing the show to perfection — at least in John's mind it's perfection!
"It's really like a producer's game. Like I wouldn't be as excited to meet a cast member as I would be to meet a guy who cuts that show," John revealed. "It's their voice. It's a producer's ball game, like I love it!"
To get Ellen and the audience on the same page as him, John tried to better explain his Bachelor babble, using Ben's season as an example of a show with great editing.
MORE ON:
The Ellen DeGeneres Show
Article continues below advertisement
As the audience cracks up, Ellen asks John if he thinks Ben made the right decision by proposing to Courtney in the end.
"There was nothing you could say to him to not pick Courtney!" John said. "Girls were coming up like, 'I watched Courtney rip someone's face off' and he'd go, 'I'll take that under consideration.'
"Damn show works is what we're saying!" John joked.
But would he ever consider being The Bachelor?
"It's one of those things where I would waste their time taking a meeting so I could hear more about it, but I would ultimately say no," John confessed, crushing the crowd's hopes and dreams. "But I would just have to take the meeting... because they'd give me a pitch and they'd photoshop my head on a guy with a suit and a rose, and I'd want to keep that!"