NEWS
John McCain, Sarah Palin Are Just In Time For 'W.' Drama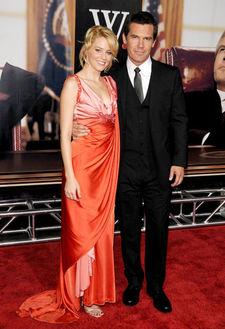 John McCain and Sarah Palin shock when their motorcades roll by the W. premiere moments before arrivals begin. As they exit from the Hilton stationed across from the Ziegfeld Theater in NYC, all eyes leave the premiere and focus on the presidential contenders.
I must say, I am certain George W. Bush himself would've better answered my questions than Josh Brolin, who plays George W. Bush in the biographic comedy in theaters now.
Article continues below advertisement
By the time he strolls down the red carpet, I've had my fill of celeb politics, and use my one question for something more relevant … the secret to a happy marriage. Josh, who has been married to Diane Lane since 2004, absolutely blasts off, repeating, "You have a new movie coming out. What's the secret to a happy marriage?!?!?"
Um, yeah. I'm thinking if Guy Richie, Matthew Broderick, Will Smith and just about everyone else can answer politely at their movie premieres, so can he. After all, wife Diane is here, and this is a press line for me to help him promote his movie.
Oh no. He's visibly angry. He's not having it. Help! All right -- second best, "what celebrity would make the best president?"
And he storms away.
Maybe Josh was simply having a bad night because director Oliver Stone believes he would make a great president in real life. "He's young, he's energetic, he's attractive and he's on top of things," Oliver tells me of Josh.
Thank goodness the gorgeous Elizabeth Banks, who plays Laura Bush, is pleasant and accommodating. She doesn't believe the First Lady will see the film but if she does Elizabeth hopes she'd be pleased.
Article continues below advertisement
"I'd like her to feel honored by the movie in some way," she tells me. "I'd like her to feel that I put her essence up there and that I did right by her. But if she doesn't feel that way, then I'll live."
Elizabeth continues, "It's hard to find fault in Laura Bush. We don't criticize her at all. She's a very supportive and loving wife, and I think she's in a great marriage. I like them as a couple."
How did Thandie Newton, who plays Condoleezza Rice, prepare?
"We were all Bush nerds because we didn't want to screw it up," she laughs. "It was like University challenge. It was a test. It was the most rewarding and terrifying role I've ever had in my life."
What's the most surprising thing Jesse Bradford learned about the administration?
"He's got all these nicknames for the people he works with," he tells me. "Apparently he calls Karl Rove 'Turd Blossom,' and he used to call Colin Powell 'Balloon Foot.' I don't think they're making this up. I've heard he has nicknames."
Really?! Hm.
Guest time! While Christie Brinkley is a no-show, Julia Stiles, Russell Simmons, Cedric The Entertainer and Rosie Perez sit for the screening. Strangely, John McCain and Sarah Palin have more important things to do. ;)
W. is in theaters now.