NEWS
Johnny Depp on Angelina Jolie: "Pleased to Find She is Incredibly Normal"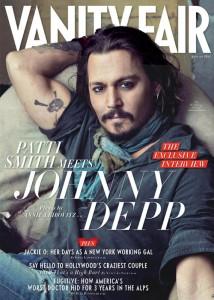 Johnny Depp was surprised when he met his The Tourist co-star Angelina Jolie as you might think he would be, except that he was surprised by how "normal" she is!
OK! GALLERY: JOHNNY DEPP MAKES A SWASHBUCKLIN' SWITCH
"Meeting her and getting to know her was a real pleasant surprise," Johnny tells Vanity Fair. "You don't know what she might be like—if she has any sense of humor at all. I was so pleased to find that she is incredibly normal, and has a wonderfully kind of dark, perverse sense of humor."
Article continues below advertisement
We wonder what Angelina would say about meeting Johnny? But the actor has a lot of respect for Angelina and how she handles herself around the media.
"Poor thing, dogged by paparazzi, her and her husband, Brad… all their kids," he says of Angie and Brad Pitt. "There are times when you see how ridiculous is this life, how ludicrous it is, you know, leaving your house every morning and being followed by paparazzi."
By being around Angelina, Johnny had to deal with the same struggles while filming. Johnny remembers "having to hide, sometimes not even being able to talk to each other in public because someone will take a photograph and it will be misconstrued and turned into some other shit."
OK! NEWS: ANGELINA INTERVIEW — SHILOH ASKED IF SHE COULD HAVE "A DEAD PET"
Johnny plays a mathematician in The Tourist and the role really appealed to him.
Article continues below advertisement
"I was always fascinated by people who are considered completely normal, because I find them the weirdest of all."
He's known for his eccentric roles and says that can kind of be a problem, since he keeps a piece of them with him.
"They're all still there, which on some level can't be the healthiest thing in the world…. I always picture it as this chest of drawers in your body—Ed Wood is in one, the Hatter is in another, Scissorhands is in another…. They're still very close to the surface."
And Johnny was also glad he took the role so he could get to know the real Angie.
"I've had the honor and the pleasure and gift of having known Elizabeth Taylor for a number of years," he says. "You know, you sit down with her, she slings hash, she sits there and cusses like a sailor, and she's hilarious. Angie's got the same kind of thing, you know, the same approach."
Article continues below advertisement
Johnny's approach to his roles, hasn't always been praised.
"Somebody once asked Hunter S. Thompson, "What is the sound of one hand clapping, Hunter?" and he smacked him. Captain Jack was kind of like that for me, an opening up of this part of yourself," Johnny says of his Pirates of the Caribbean role. "There is a little Bugs Bunny in all of us."
But Disney didn't love Captain Jack Sparrow right away.
"They couldn't stand him. They just couldn't stand him," Johnny explains. "I think it was Michael Eisner, the head of Disney at the time, who was quoted as saying, 'He's ruining the movie.' " But Johnny didn't let that get him down!
"Upper-echelon Disney-ites, going, What's wrong with him? Is he, you know, like some kind of weird simpleton? Is he drunk? By the way, is he gay?… And so I actually told this woman who was the Disney-ite… 'But didn't you know that all my characters are gay?' Which really made her nervous."