NEWS
VIDEO: Angie & Johnny Kiss Kiss in 'The Tourist'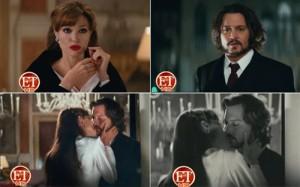 Finally! The first sneak peek of Angelina Jolie and Johnny Depp in The Tourist has arrived — and it doesn't disappoint! Looks like both A-list actors have great chemistry on set as they lock lips in the highly-anticipated flick!
The backdrops of Paris and Venice in the film surely look beautiful!
Angie plays an Interpol agent who seduces a tourist, played by Johnny. The flick hits theaters Dec. 10
Article continues below advertisement
Director Florian Henckel von Donnersmarck felt privileged to work with the Hollywood A-listers and was happy to bring them together for the first time on the big screen!
OK! NEWS: TOURIST DIRECTOR — ANGELINA & JOHNNY DEPP "GOT ALONG SO WELL"
"Believe it or not, Angie and Johnny had never met. Through all the years that they've been king and queen of Hollywood, they had never actually physically met, so I was the first person to ever bring them together. So if nothing else, that was a really historical moment," director Florian told MTV News recently. "They just got along so well from the first moment they met that I knew it was going to be a lot of fun making this film."
Catch 19 seconds of the action, via Entertainment Tonight!
realtedPosts