NEWS
Johnny Depp on Marriage: Doesn't Need "That Piece of Paper"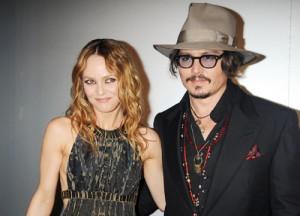 Johnny Depp has been dating Vanessa Paradis for 12 years and they have two children together, but don't expect them to be getting married anytime soon.
OK! GALLERY: JOHNNY DEPP MAKES A SWASHBUCKLIN' SWITCH
"I never found myself needing that piece of paper," Johnny told Extra on why he hasn't married Vanessa. "Marriage is really from soul to soul, heart to heart. You don't need somebody to say, okay you're married."
Article continues below advertisement
"If Vanessa wanted to get hitched, why not... But the thing is, I'd be so scared of ruining her last name," he said. "She's got such a good last name."
OK! NEWS: JOHNNY DEPP ON ANGELINA JOLIE — "PLEASED TO FIND SHE IS INCREDIBLY NORMAL"
Johnny's attitude towards marriage seems similar to his The Tourist co-star Angelina Jolie.
"She's just a regular gal... with a perverse sense of humor," Johnny said of Angie. "She's got a vivid and energetic sense of humor. She doesn't mind traveling to the dark or to the very weird."
While filming together Johnny and Angie had to fight off the paparazzi.
"It was like wallpaper. There were so many," he explained. "I've never seen that many in my life. You'd leave your hotel to get in a boat to go to work and the question was, 'how many today?'"
OK! NEWS: ANGELINA INTERVIEW — SHILOH ASKED IF SHE COULD HAVE "A DEAD PET"
With the holidays approaching, Johnny said he is looking forward to relaxing at home with Paradis and his children Lily-Rose Melody, 11, and John Christopher, 8.
"Sleeping, sleeping and playing with a lot of toys with my son," Johnny said of his plans for the holidays. "Hanging out with the kiddies."