NEWS
Johnny Depp on Photo Shoots: 'Feels Like You're Being Raped Somehow'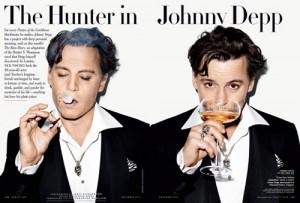 Johnny Depp covers the November issue of Vanity Fair and delivers a very frank interview about being the most highly-paid actor of his generation and his reasons for staying in the business. Also, in a bound-to-be-controversial statement, he likens photo shoots to rape.
The 48-year-old actor opens up on despising photo shoots.
Article continues below advertisement
"You just feel like you're being raped somehow," he tells Vanity Fair. "Raped. The whole thing. It feels like a kind of weird — just weird, man…. Whenever you have a photo shoot or something like that, it's like — you just feel dumb. It's just so stupid."
But Johnny pushes past the media intrusion and takes on as many projects as possible for one reason — his children.
"Basically, if they're going to pay me the stupid money right now, I'm going to take it. I have to. I mean, it's not for me," he explains. "Do you know what I mean? At this point, it's for my kids. It's ridiculous, yeah, yeah. But ultimately is it for me? No. No. It's for the kids."
OK! NEWS: R-PATTZ DEFENDS K-STEW RAPE COMMENT
In an article with British Elle last year, Kristen Stewart compared the paparazzi intrusion surrounding her to rape, and it caused public advocacy group RAINN — Rape, Abuse and Incest National Network — to release a harsh statement about the actress's word choice.
Do Johnny's actions seem any different? The November issue of Vanity Fair hits newsstands Thursday. For more of Johnny's interview, visit VanityFair.com.