NEWS
Johnny Depp & Vanessa Paradis Heading for a Split After Almost 14 Years?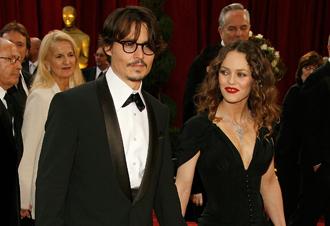 Article continues below advertisement
In a previous interview with OK!, Johnny said, "I saw Vanessa across a room — and I first saw only her back! But I immediately thought: 'That's the woman for me.'"
They never, however, decided to get married.
"Yes, and that's how it is going to stay — for now," the actor explained to OK! in a past interview. "As one of our presidents once said, 'If it ain't broke, don't fix it.' We just haven't done the big public vow thing. It doesn't seem necessary for us. Others may want to go down that road — we don't."
OK! INTERVIEW: JOHNNY DEPP IS SO IN LOVE!
So, why has it broken now?
According to Radar Online's sources, Johnny and Vanessa are fighting constantly and "their relationship is heading toward the end."
"Johnny has started reaching out to lawyers, probably to quietly discuss how to get out of the relationship," the source adds. "They're not married, but they've been together for years and have kids together so it isn't as easy as just breaking up."
Do you hope Johnny and Vanessa can pull through or would you like to see the handsome actor back on the market?