NEWS
Johnny Depp's Two Other Women: Amber Heard & Ruth Wilson!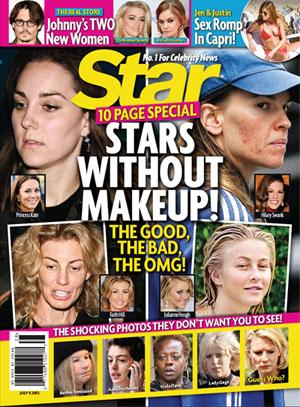 As breakups go, the one between longtime lovers Johnny Depp and Vanessa Paradis was somewhat less than shocking. At the time of their June acknowledgment that they'd split, the Hollywood superstar and the French singer/actress — who became parents of daughter Lily, 13, and son Jack, 10, during their 14-year relationship — hadn't been seen together in public for seven months.
OK! NEWS: JOHNNY DEPP BOUGHT NEW GAL PAL AMBER HEARD A HORSE
Article continues below advertisement
Rumors had been flying that they were through long before the official announcement — Johnny's wandering eye was at the center of many of them. The alleged object of his attention: Amber Heard, 26, a strikingly sexy, Texas-born model-turned-actress who costarred with Johnny in the 2011 film The Rum Diary and is openly bisexual.
"Johnny's been smitten with Amber for a long time," a source tells Star. They began filming together in the sping of 2009, "and with both of them having wild, bohemian streaks, their chemistry was off the charts!" But Amber could be mistaken if she thinks she now has Johnny all to herself!
OK! NEWS: JOHNNY DEPP & VANESSA PARADIS: IT'S OVER!
Star has learned that Johnny, 49, who's currently filming The Lone Ranger in the American Southwest, has gotten oh-so-close to the movie's love interest, British actress Ruth Wilson, 30.
"She's an unconventional beauty who's Johnny's type," says an insider. "They've discreetly been spending as much time together as possible — on and off the set."
FOR MUCH MORE ON JOHNNY'S SECRET LOVERS, PICK UP THE NEW ISSUE OF STAR, ON NEWSTANDS NOW!