NEWS
From Joke to Jail—Watch What Chad 'Ochocinco' Johnson Did in Court That Got Him Arrested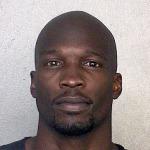 Chad "Ochocinco" Johnson majorly fumbled his chance for freedom in a Broward County, Florida, courtroom yesterday.
The ex-NFL player was before the judge on charges he violated his probation stemming from a domestic violence case involving his now ex-wife Evelyn Lozada. At first, everything was going in Chad's favor. The judge accepted a plea deal arrangement, giving Chad community service and counseling instead of jail time. The judge even complimented Chad on how good his lawyer was in arguing the case.
Article continues below advertisement
OK! News: See Who Thinks Amanda Bynes Is Just Fine Despite Her Arrest and Other Troubles
Chad agreed. He then showed his lawyer some love with a little swat on the butt, a common move on the football field. The court burst into laughter, but the judge was far from amused.
"I don't know that you're taking this whole thing seriously," the judge sniped. "I just saw you slap your attorney on the backside. Is there something funny about this? The whole courtroom was laughing. I'm not going to accept these plea negotiations. This isn't a joke."
Photos: From Fresh Faced to Behind Bars—Amanda Bynes' Life in Pics
Chad apologized, but it wasn't enough. And this time his lawyer wasn't able to get him out of hot water. The judge threw out the previously agreed upon plea deal and sentenced Chad to 30 days in the slammer.
Do you think the judge overreacted or was Chad disrespectful to the court? Tell us your opinion in the comments section or on Twitter @OKMagazine.