NEWS
Jon Cryer Opens Up on 'Ellen' & Admits He Was "Worried That Charlie Was Going to Die"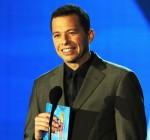 As the season premiere for Two and a Half Men is less than a week away, Jon Cryer is busy promoting it. He'll appear on The Ellen DeGeneres Show today and although his former costar Charlie Sheen called him a troll, Jon told Ellen he was truly concerned the warlock was going to die. Find out more after the jump!
As pointed out by E! News, Jon dished, "Mostly I was worried that Charlie was going to die. That was the big fear for me." The fact that Charlie's downward spiral didn't result in a lethal blow provided much needed relief to Jon. He added, "And that...that did not occur and I'm thrilled about that."
Article continues below advertisement
That answer would be a negative. He responded, "We have not spoken, and I will accept an apology both public and private. But again, it was in the heat of the moment I imagine when he said…So I did not put a whole lot of credence in it at the time."