NEWS
Jon Gosselin Feels Used at Car Lot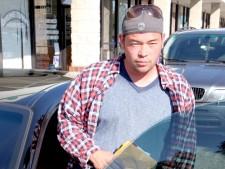 While Kate Gosselin was busy on The Jay Leno Show and not changing her last name, ex-hubby Jon Gosselin tried to trade in his car last Friday — the day the parents' of eight divorce was finalized. Jon attempted to make a profit by trading in his BMW for a Subaru plus an additional $4,000, TMZ reports.
An employee at Auto Exchange USA in Lancaster, Pa., told TMZ Jon arrived at the car lot wanted to trade his 2005 BMW M3 for a 2008 Subaru STI and the additional money.
Article continues below advertisement
However, Jon's plan to come up with some extra dough failed.
His beloved Beamer was not worth as much as he hoped, and Jon aborted his mission sans the Subaru or the $4,000.
The Lancaster, Pa. car lot is ironically the spot where Stephanie Santoro used to work, the babysitter Jon had an alleged affair with.
Jon may be in for some more bad luck when his former mistresses combine forces in a reported TV interview.
Kate Major, Hailey Glassman and Stephanie are currently in discussions to sit down as a group and tell the world their side of the Jon Gosselin story, HollywoodLife.com reported earlier this month.
"I think the truth is going to come out," Kate, the former Star reporter who left her job after falling for Jon over the summer, told Hollywood Life.
"We are all meeting together for the first time very soon and all three of us are going to publicly talk," Kate explains. "The interview is being arranged as we speak."