NEWS
Jon Gosselin: I Gave the Money Back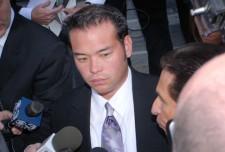 This morning, Jon Gosselin appeared before a judge in the divorce proceedings between him and wife Kate, and said he had returned the $230,000 he took from their joint account, TMZ reports.
Jon showed up to inform the court that he had done what he had been ordered to do — but what about Kate?
Jon claims she has yet to account for $33,000 worth of withdrawals. Kate, however, was not in court this morning.
Article continues below advertisement
Both sides are due back in court again next month.
RECENT PICS OF JON:



5 Images in the Gallery