NEWS
Jon Gosselin Tweets Well Wishes to Kate Amid Hailey Glassman's Rampage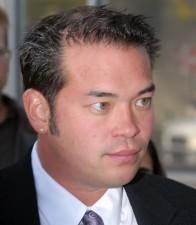 Looks like Jon Gosselin is maturing a bit. The father of eight Tweeted a congratulatory message to ex Kate Gosselin on her new reality gig as a Dancing With the Stars contestant.
Jon Tweeted the following message to Kate minutes ago.
Article continues below advertisement
Jon's sweet Tweet to Kate comes amid the wrath of ex girlfriend Hailey Glassman's rampage against the reality star.
Hailey has been labeling Jon as "Mr. Mangina" and demanding 200,000 from him.