NEWS
Jon Hamm Teases 'Mad Men' Season Five: "Wait Until You See Episode 4"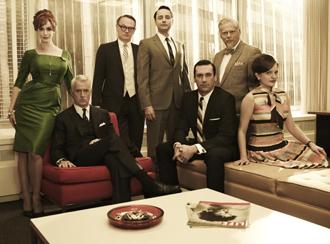 Mad Men will finally be returning for Season 5 on AMC on March 25 and star Jon Hamm promises it's going to be quite a season! AMC released new cast photos today to get fans excited for the premiere and Jon is doing his part by teasing some "holy s***" moments.
OK! GALLERY: MAD MEN SEASON FOUR PREMIERE MAKES A SPLASH
What differences can fans expect to see between last season and the new one coming up?
Article continues below advertisement
"Season 5 and Season 4, I think, are much more consistent in their perspective. In a funny way, and I talked about this with Matt Weiner, but Season 5 feels a lot more like Season 1. This is established," Jon explained to The Huffington Post. "We're not rebuilding in the sense of Season 4, when we just started a brand-new business and everything was new. Don was unmarried. Everything was in flux. Whereas this season, everything is relatively stable."
"Obviously, we still have to generate business," he continued. "We have to hustle for it. Relationships are trying to work and are failing or not, and it's a challenge. But I was like, 'This really feels like Season 1.' It feels like we know these people and we're moving through and then something will come out of left field and then it's, 'Holy shit.'"
OK! NEWS: KIM KARDASHIAN CALLS JON HAMM'S "STUPIDITY" COMMENT "CARELESS"
Article continues below advertisement
Jon did reveal an episode that fans can look forward to watching.
"Wait until you see Episode 4," he said. "And by the way, the fourth episode of the season always seems like, for whatever reason, a big episode for us. I think episode four of Season 1 was "5G." It's always around that time when something — some bump in the road — happens and this season, that was one of them. I was like, 'Holy s***, this is weird.'"
Mad Men Season 5 premieres on AMC on March 25 in a two-hour special.
Check out more cast photos from Season 5 over at AMC.com!