NEWS
Jon Stewart Asks Ricky Gervais to Apologize: "It Hurt My Self-Esteem"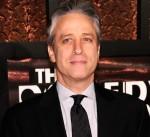 Article continues below advertisement
Jon advised, "Here's what you have to apologize about for the Golden Globes: making people like me — who've also hosted these events — feel inadequate by being that funny... It hurt my self-esteem and I think you do owe me an apology."
OK! NEWS: RICKY GERVAIS WAS "NOT ASKED TO COME BACK" TO GOLDEN GLOBES"
As they both laughed it off, chalking it up to an awards show in Hollywood, according to The Huffington Post, Ricky responded, "This is what I think I should apologize for about the Golden Globes: F--- all."
Amidst laughs he added, "If they ever came to my standup, their heads would explode. That was toned down, that was daytime TV. What did I say that was so bad?"