NEWS
The Jonas Brothers are Mama's Boys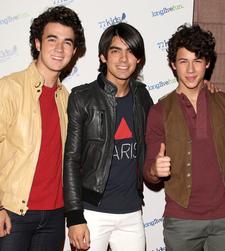 The Jonas Brothers are adding "co-host" to their list of many talents. On Thursday, Feb. 12, the band will share the stage with Entertainment Tonight's Mary Hart and The Insider's Lara Spencer as c0-hosts for the day. The boys will also sit down for an in-depth interview where they reveal everything from their secret Valentine to the intimate details of their lives on tour.
So who is the special lady this year? "Mom!" all three brothers tell ET and The Insider. With such busy lives, it seems mom is the only one who can keep up with the band this year. Kevin, Nick and Joe tell Mary Hart and 75 lucky fans that life on tour is different for all of them.
Article continues below advertisement
Kevin reveals that he is the morning person in the group, while Nick is definitely the night owl. The brothers also reveal the nicknames they have for each other on the road. Kevin is "K2," Nick is "Mr. President," and Joe is "Danger."
Tune in tomorrow to find out what those nicknames mean! We know it's peaked our interest!
The Jonas Brothers: The 3D Concert Experience opens in theaters on Feb. 27.