NEWS
The Jonas Brothers At Bat to X the TXT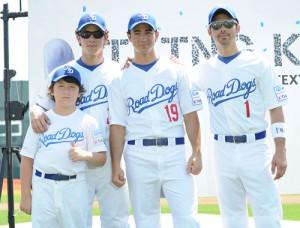 You won't see these boys texting well driving — especially that little guy! Frankie (the Bonus Jonas!) Nick, Kevin and Joe Jonas played ball for a good cause in NYC yesterday, during the Road Dogs X the TXT softball tour at KeySpan Park. The X the TXT campaign encourages teens to pledge not to text on the road, as it could cause a collision.
Article continues below advertisement
The JoBros seemed very at home on the ball field — maybe they should consider an alternate career just in case this whole teen heartthrob gig doesn't pan out!
OK! GALLERY: THE JONAS CREW SPENDS SOME TIME IN NYC
The Big Apple has played home base to the boys this week as they've been out and about promoting Camp Rock 2.