NEWS
Joseph Gordon-Levitt Tells 'GQ' He Thinks Fawning Over Celebrities is "Degrading"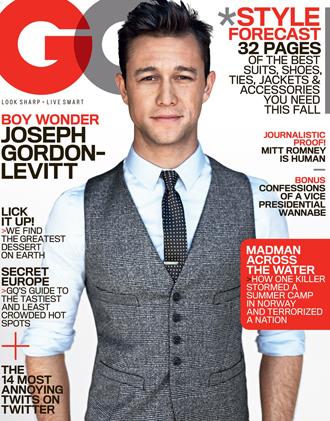 With four movies in the works and a starring role in this month's guaranteed megablockbuster, The Dark Knight Rises, Joseph Gordon-Levitt's career has hit a hot streak.
OK! NEWS: NEW DARK KNIGHT RISES TRAILER FEATURES ANNE HATHAWAY AND JOSEPH GORDON-LEVITT
GQ dressed him in dapper Dolce&Gabbana, Hugo Boss and Ralph Lauren for its August issue and sat down to chat about his "serious" boyhood, why he thinks cars are boring, and how celebrity culture disgusts him.
Article continues below advertisement
As Zooey Deschanel told the mag, Joe is a bit of a "contrarian."
"I was a sort of serious little dude — snobby. I thought girls my age were very frustrating," he tells the magazine about his life around the time he was acting on the sitcom Third Rock From The Sun. "They were, like, looking in their compact mirrors and s---, and I thought that was evil."
Another facet of modern culture he finds evil? The obsession with celebrity.
"I really don't like this notion that some people are more important than other people," he said. "These stories about these elevated people called 'celebrities' teaches you that what you have to say doesn't matter. It's degrading."
Joseph plays police officer John Blake in The Dark Knight Rises, and director Christopher Nolan says it was a no-brainer selecting the (500) Days of Summer star for the role.
OK! NEWS: THE DARK KNIGHT RISES MOVIE POSTER REVEALED
"He has tremendous charisma and that incredible kind of positivity that can't be faked," Chris said. "We really needed somebody with a sense of idealism to contrast with Gordon's (Gary Oldman) weariness.... I thought of Joe first and foremost."
And while most celebrities are proud of their fancy rides, Joseph urged GQ writer Amy Wallace to leave out any real descriptions of his "aging vehicle. It's so boring. I hate cars. Let's say it's a magic carpet!"