NEWS
Josh Duhamel & Patrick Dempsey Call 'Transformers: Dark of the Moon' a "Man's Show"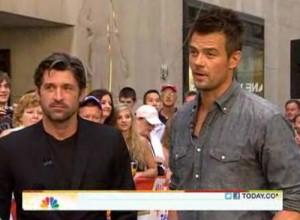 Transformers: Dark of the Moon hunks Josh Duhamel and Patrick Dempsey heated up the set of the Today show this morning as they promoted their latest action-packed flick.
"It's a full day's work," Josh said of the time and energy that went into filming the third installment of the hit franchise.
OK! NEWS: MICHAEL BAY SAYS YOU CAN REALLY "FEEL THE ACTION" IN TRANSFORMERS: DARK OF THE MOON
"I had the best time I ever had," Patrick chimed in. "Everything is just so larger than life, all the way through the production."
Article continues below advertisement
Co-host Matt Lauer noted that 300 cars were destroyed throughout the film.
"So this is a chick flick," he quipped.
Josh corrected him saying the cars were "damaged" and were headed to the compound anyway.
Fergie's hunky hubby also commented on Patrick's role as a bad guy.
"Patrick makes a very good villain," Josh says.
"I went form the ultimate chick show," Patrick added, referencing Grey's Anatomy, "to the ultimate man's show."
Josh has been in all three films, and Today co-host Ann Curry said his role as a solider made her cry.
"All the guys who are around me in that movie are SEALs, or Army rangers who are on active duty, who have been back and forth to Iraq or Afghanistan," Josh shared.
Josh also raised awareness for flood victims in his home state of North Dakota, urging viewers to help the cause.