NEWS
Michael Bay Says "You Can Really Feel the Action" in 'Transformers: Dark of the Moon'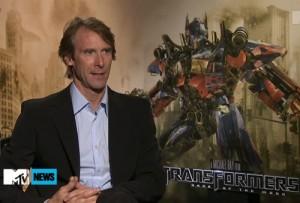 Michael Bay isn't a fan of filming in 3-D. In fact, he calls it a "technical nightmare." But the Transformers: Dark of the Moon director thinks the work will be worth it when viewers "can really feel the action."
OK! NEWS: SHIA LABEOUF HOOKED UP WITH MEGAN FOX — "IT WAS WHAT IT WAS"
"Jim James Cameron, he's like, 'Mike, you got to do it in 3-D,' " Michael recalled to MTV News. "Steven Spielberg, he says, 'Michael, you should do this in 3-D,' and I'm like, 'I don't know about the technology.' "
Article continues below advertisement
But Michael decided to go ahead and film in 3-D despite the difficulties.
"It's hard with my style of shooting and taking a camera and strapping it to guys who are skydiving off buildings, and helmet cams," the director explained. "It's a technical nightmare. You don't even want to tell your viewers how technically complicated this stuff is."
The result? Michael had to change his typical approach to filmmaking and ended up making the action film more 3-D friendly.
"I've slowed down my style on this one," he said. "There are longer shots, there are evolving shots, some shots are 45 seconds long, where you're going in and through things. Where people say, 'Oh, I can't watch action with 3-D,' it's where 3-D was done poorly and your eye goes in and out, and if it goes fast, it's when you get bad 3-D, because it screws with your head. Shot by shot, we're transitioning the viewer. You can really feel the action in this. It's much more experiential."