NEWS
Josh Duhamel Is a (Strong) Man in Tights on 'Ellen DeGeneres'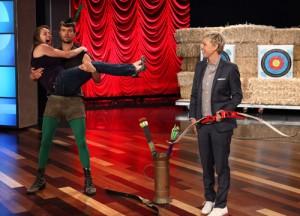 Josh Duhamel really showed of his manliness on The Ellen DeGeneres Show today. The handsome actor showed how strong he was during an archery lesson (wearing proper tights attire) with Ellen DeGeneres by picking up an audience member!
OK! VIDEO: WATCH NEW TRANSFORMERS: DARK OF THE MOON CLIP FEATURING A SEXY JOSH DUHAMEL
Before Josh showed off his archery skills, he chatted with Ellen about wanting to have babies with his wife Fergie.
Article continues below advertisement
"I used to want five, six but you know, probably not realistic anymore. Plus, I'm probably a little more selfish than I thought I was," Josh explained to Ellen (via HollyBaby). "So I think two is good. I think two is a good number. You can give them the right amount of attention, but whatever. We're both from Catholic families we like to procreate!"
"So you may have like six or seven… you'd ignore the other five or something?" Ellen asks.
"I would pick out my two favorites and ignore the others," he said while laughing.
OK! NEWS: FERGIE WANTS A LITTLE TIME OFF TO SPEND WITH HUBBY JOSH DUHAMEL
And Josh picked out his favorite audience member on the show too.
The audience screamed when Josh changed into a sexy Robin Hood costume and showed how he can shoot an arrow. Ellen rewarded a girl from the audience with two tickets to Josh's Transformers: Dark of the Moon premiere.
But Josh did her one better.
He picked her up!
Watch Josh make his fans scream below!