NEWS
Josh Hutcherson Wants "Some Sort of Friendship" With His Childhood Co-Star Kristen Stewart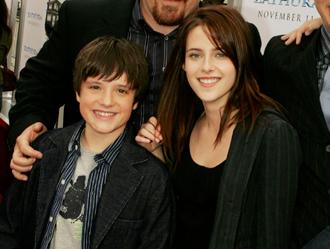 Article continues below advertisement
"I actually got to talk to Kristen Stewart tonight for the first time in five years, at least," Josh said. "That was awesome to connect with her again, especially after everything that's happened to the both of us with Twilight and The Hunger Games. It's nice to just kind of be able to talk again and hopefully have some sort of friendship. She's fantastic."
Although Josh wouldn't delve into what the pair talked about, he did say there's no bad blood between his cast and hers.... well, not yet!
"Honestly, you know what? I've never really felt it to be a competition. And I wish I could pretend like it was 'cause it'd be fun, but it's so not," Josh told MTV of the franchises. "Their cast is fantastic, our cast is fantastic and there's never been any bloodshed. ... Not yet," he teased.
OK! NEWS: JOSH HUTCHERSON & ELIZABETH BANKS TALKS HUNGER GAMES SEQUEL CATCHING FIRE
Josh and Jennifer Lawrence won best male and female performances for The Hunger Games on Sunday, while Kristen and Robert Pattinson (who was absent for the show) took home the golden popcorn for best kiss and best movie for Breaking Dawn Part 1.
But, we can't forget that Elzabeth Banks and Alexander Ludwig won for The Hunger Games as well, so it looks like Suzanne Collins beat out Stephenie Meyer this year...