NEWS
Josh Kelley Opens Up About Katherine Heigl & Naleigh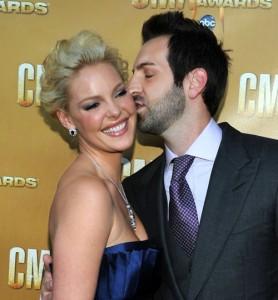 Singer-songwriter Josh Kelley typically flies under the radar — especially when compared to wife Katherine Heigl, who is usually the one in the spotlight for speaking about her career and personal life. But for once, Josh is the one speaking up about his family life.
Josh is a very dedicated husband and father. He even wrote a song inspired his and Katherine's 22-month old adopted daughter Naleigh called "Naleigh Moon." But the tot doesn't really appreciate the sweet gesture. When asked about whether or not Naleigh understood the song was about her, Josh responded:
Article continues below advertisement
"She does, but she doesn't care. She'd rather listen to Yo Gabba, Gabba," he told OK! at last night's CMA Awards in Nashville. "But maybe one day she'll really appreciate it."
OK! GALLERY: KATHERINE, JOSH & THEIR FANCY FAIRY CELEBRATE HALLOWEEN!
One thing's for sure — Josh and Katherine really appreciate each other and the loving family they've created together. On Wednesday night, Katherine was right alongside her husband to support him at the 44th Annual Country Music Awards. And when Josh goes on tour, she's still right there with him.
"We're been on tour with Miranda Lambert the last couple months, and she came out with Naleigh for the three shows in Texas. We put a pack-in-play in front of the bed in the back, and drove the 12 hours back."
OK! NEWS: KATHERINE HEIGL: JOSH AND I DID NOTHING "SCANDALOUS" IN THE HOT TUB
Touring with a husband a two-year-old?! It sounds like Katherine might not be the diva she has been rumored to be! Though, it's hard to compete with the diva-ness of a tot on tour. But according to Josh, Naleigh was born for the road.
MORE ON:
Katherine Heigl
Get The Top 6 Celeb-Loved Skincare Products For Under $60, Used By Alexandra Daddario, Alicia Keys, Katherine Heigel, Lori Harvey, Ruby Rose, More — Shop Now
Slammed By The Stars: Kim Cattrall, George Clooney, More Spill The Tea On Toxic Work Environments, Horrible Costars, Terrible Projects
Article continues below advertisement
"It's not easy, but for some reason, she sleeps great. I don't sleep great on the bus, but for some reason, my daughter sleeps awesome. She wakes up and she's like 'dada, mama.' It's the weirdest thing in the world seeing this little kid pop up at the foot of the bed."
OK! NEWS: COPS CALLED TO KATHERINE HEIGL'S HOUSE
With the holiday seasons approaching, OK! also took time to ask Josh what is one gift that he's still loving, but nothing could shake the singer's focus from Katherine and Naleigh.
Josh answered, "Family, just because it's the best gift of all."
By Sadie Gennis with reporting by Valerie Nome