NEWS
Journalist Nir Rosen Disrespects Injured CBS Reporter Lara Logan On Twitter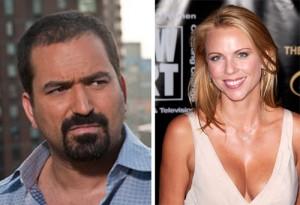 While most members of the journalism community are rallying behind CBS reporter Lara Logan after the horrific assault she endured while reporting in Egypt, U.S. journalist Nir Rosen decided to joke about the situation on Twitter, disrespecting Lara and CNN anchor Anderson Cooper who was also injured while reporting in the country.
"Lara Logan had to outdo Anderson," Rosen Tweeted, referring to the Anderson who was punched in the head multiple times while covering the recent demonstrations in Egypt's Tahrir Square.
Article continues below advertisement
OK! NEWS: CBS REPORTER LARA LOGAN WANTS TO RETURN TO WORK; ANDERSON COOPER TWEETS SUPPORT
"Yes yes it's wrong what happened to her. Of course. I don't support that. But it would have been funny if it happened to Anderson too," he continued on Twitter, followed by a string of Tweets that were even more hurtful and disrespectful.
• "Jesus Christ, at a moment when she is going to become a martyr and glorified we should at least remember her role as a major war monger"
• "Look, she was probably groped like thousands of other women."
Last week Lara, a 60 Minutes correspondent, endured a "brutal and sustained sexual assault by a mob of men while covering the Egyptian uprising," CBS News released in a statement.
She was rescued by a group of women and about 20 Egyptian soldiers, the network reported.
Article continues below advertisement
When Rosen realized he "forgot twitter is not exactly private" he followed up his insensitive Tweets, with a string of apologies.
• "ah fuck it, i apologize for being insensitive, its always wrong, thats obvious, but i'm rolling my eyes at all the attention she will get"
• "and as a result of that i hope people remember her role glorifying war and condemning rolling stone's hastings while defending mcchrystal"
• "i apologize and take it back. joking with friends got out of line when i didnt want to back down. forgot twitter is not exactly private"
• "As someone who's devoted his career to defending victims and supporting justice, I'm very ashamed for my insensitive and offensive comments"
• "on the job you get used to making jokes about our own death, other people's deaths, horrors, you forget that you sound like a dick at home"
Article continues below advertisement
• "to the 500 people new twitter followers and the old ones. I did not mean it and i apologize again. it was an inappropriate unaccetable joke"
• "but there is no point following me, i am done tweeting. too ashamed of how i have hurt others and the false impression i gave of who i am"
• "I feel I should make one last statement. I offer my deepest apologies to Ms. Logan, her friends and her family. I never meant to hurt anyone"
• "I know that in a matter of seconds with a thoughtless joke, I brought shame upon myself and my family and added insult to Ms. Logan's injury"
In light of his remarks, Rosen resigned from his fellowship from New York University's Center on Law and Security today, according to Karen J. Greenberg, the center's executive director, via the NY Daily News.
"Nir Rosen is always provocative, but he crossed the line with his comments about Lara Logan. I am deeply distressed by what he wrote about Ms. Logan and strongly denounce his comments," Greenberg said in a statement.