NEWS
Julia Roberts Refuses to Have Botox: "Your Face Tells A Story"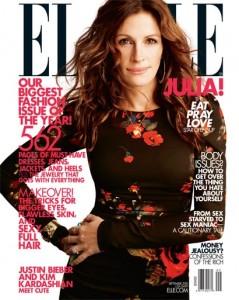 Julia Roberts has spoken out against Botox saying that her face "tells a story" and she wants her children to be able to read her emotions.
The Eat Pray Love star gave a frank interview to Elle magazine about the issues around growing older in Hollywood, motherhood and surviving George Clooney.
OK! VIDEO: JULIA, JAVIER, JAMES TALK EAT PRAY LOVE
"It's unfortunate that we live in such a panicked, dysmorphic society where women don't even give themselves a chance to see what they'll look like as older persons," she says.
Article continues below advertisement
"I want to have some idea of what I'll look like before I start cleaning the slates. I want my kids to know when I'm pissed, when I'm happy, and when I'm confounded. Your face tells a story… and it shouldn't be a story about your drive to the doctor's office."
OK! VIDEO: JULIA ROBERTS TALKS ABOUT HER "BOSS" BRAD PITT
Talking of her kids, five-year-old twins Hazel and Phinnaeus and three-year-old Henry with husband Danny Moder, Julia says: "The children became the shooting stars of him, of that thing we have. How lucky we are that we love each other so much that we burst into three pieces."
Meanwhile, despite her hugely successful movie career, the 42-year-old reveals the secret behind her big-screen skills. "I have no acting technique. And there's nothing more boring than actors sitting around talking about acting."
OK! NEWS: JULIA ROBERTS FINDS "ABSOLUTE JOY" IN ACTING & MOTHERHOOD
She's disarmingly straight-forward about her approach to acting: "I'm always asking those guys to tell me what they want. The same with George Clooney. 'Name it for me,' I tell him, 'and I'll do it.'"
Article continues below advertisement
And working with George in Oceans Eleven brought it's own challenges — coping with the pranks from the all-male cast including Brad Pitt, Matt Damon and Casey Affleck.
OK! VIDEO: JULIA ROBERTS IN EAT PRAY LOVE PALM-READING CLIP
"Those boys! I was the only girl there. One day George Clooney put these giant potted trees in front of my door so that I couldn't get out to work. I pride myself on being punctual!
"You didn't want to leave your camera lying around, either, People were breaking into each other's rooms, taking them, and let's just say you didn't want your mom picking up your photos at Walgreens! Photos of unidentifiable body parts."