NEWS
Julianne Hough Tells 'Glamour': Ryan Seacrest Hit on Me When I Had a Boyfriend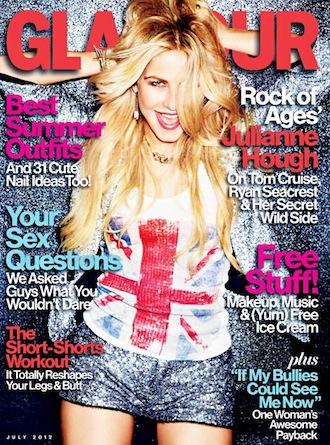 Julianne Hough covers the July issue of Glamour and chats to the magazine about the time Tom Cruise copped a feel on her breast and how Ryan Seacrest eyed the actress for a very long time before they began dating.
OK! NEWS: JULIANNE HOUGH TALKS RYAN SEACREST, RADIO BAN
Julianne's new film, Rock of Ages, opens on June 15 and in it she plays Sherrie Christian a hard rocking fan of Tom Cruise's Stacee Jaxx. In the flick, Tom manages to cop a feel on her breast, and Glamour wondered what exactly went through her mind.
Article continues below advertisement
"That was my first scene with him! I was nervous as all get-out, but after every take he high-fived me and was like, 'That was awesome.'" she said.
Another awesome occurrence? How persistent Ryan Seacrest was in pursuing the young ingenue.
He first showed interest years ago when she was engaged to an old boyfriend from back home and tried to get his people to set up a date. When that was shot down, Ryan invited the Dancing With the Stars alum on his radio show with her then boyfriend, Chuck Wicks, a few years later.
"While we were dating, we went on Ryan's radio show together. The interview's on YouTube and I blush when I hear it because Ryan is hitting on me the entire time! At the end, Ryan said something like, 'You guys really have something special!' And I thought to myself, 'He's so full of s**t right now! When Chuck and I broke up, I wanted to be single. That lasted five months. Then Ryan and I went on a date."
Article continues below advertisement
OK! NEWS: DEREK HOUGH GIVES SISTER JULIANNE HOUGH & RYAN SEACREST HIS "SEAL OF APPROVAL"
The rest is history. Julianne admits that she and the American Idol host have a very "competitive" relationship.
"It gets silly. Ryan and I are very alike," she explains. "When we work out with a trainer, we'll die before we stop, like, to the point where we can't breathe. We both like that perfection in ourselves, and we want to make our relationship like that."
Whew — sounds exhausting, but would dating Ryan Seacrest be any other way?