NEWS
Julianne Moore to Take on Roll of Sarah Palin in HBO's "Game Change"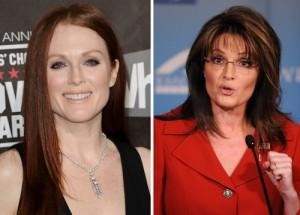 Julianne Moore has been cast to play former Alaskan governor, 2008 vice presidential candidate and self-described soccer mom, Sarah Palin, in the upcoming HBO film, Game Change.
Sarah will get the movie treatment, and Julianne has the task of bringing her to life in a film that "will chronicle Palin's burst into the national scene as a surprise vice presidential candidate in 2008," Deadline Hollywood reports.
Article continues below advertisement
Jay Roach, director of the Meet the Parents movies as well as the HBO film Recount, will take the directorial lead on Game Change, which is based on Mark Halperin and John Heilemann's book about John McCain's campaign during the 2008 presidential election.
Wonder what Tina Fey will have to say about this? Sarah was most famously portrayed on TV by Tina on Saturday Night Live.