NEWS
Jury Selection Begins for Dr. Conrad Murray's Trial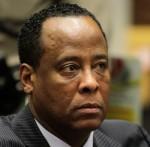 Dr. Conrad Murray is in the hot seat as jury selection begins for his trial today in L.A. The involuntary manslaughter trial of the live-in physician at the time of Michael Jackson's death will encompass about 160 people being considered for a jury spot. This is the second time the selection process has begun actually because a Superior Court Judge granted the doctor's legal team more time to get their case ready.
Article continues below advertisement
According to RadarOnline, candidates need to respond to a questionnaire of thirty pages about their familiarity to the case. This includes their opinions of the King of Pop as well as the doctor himself.
OK! NEWS: MICHAEL JACKSON'S KIDS SAID DR. CONRAD MURRAY WAS "BEST DOCTOR"
Next up, lawyers for both sides will review the materials and ask the potential jurors questions beginning September 23. As the doctor plans to testify in his own defense during the trial, Michael's family members are expected to be present.