NEWS
La Toya Jackson Calls Dr. Conrad Murray the "Fall Guy" in Michael Jackson's Death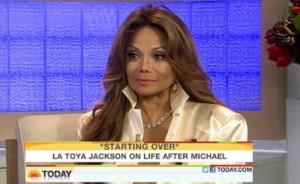 La Toya Jackson recently published the autobiography, Starting Over, in which she calls for further investigation into the death of her brother Michael Jackson. La Toya sat down with Today this morning to discuss how she believes Michael was murdered.
OK! GALLERY: LA TOYA JACKSON BRINGS MICHAEL JACKSON'S KIDS OUT TO SUPPORT RED CROSS
La Toya writes in the book that Michael feared assassination by those who wanted to steal his valuable publishing catalog and estate.
Article continues below advertisement
"So all the attention being paid to Dr. Conrad Murray for the death of Michael, you say he is the fall guy for a much larger plot," Matt Lauer said on Today during his interview with La Toya. "You write, 'I decided to investigate Michael's death and go public with what I found with the hope of getting justice for Michael by identifying those who really killed him.' And yet in the book, La Toya, I couldn't find anywhere where you actually named someone or give proof of anyone actually killing Michael."
"When you read the book you understand it completely," La Toya responded. "Once you read it, you will understand it. And I have to say that I was not there when he was actually murdered. However..."
"But you do believe that it was not Dr. Conrad Murray responsible for his death, that someone actually murdered your brother?" Matt asked.
"I believe that Dr. Murray was definitely the fall guy," she said. "I think that they need to investigate this a bit more. Go deeper into it."