NEWS
Justice! Osama bin Laden Destroyed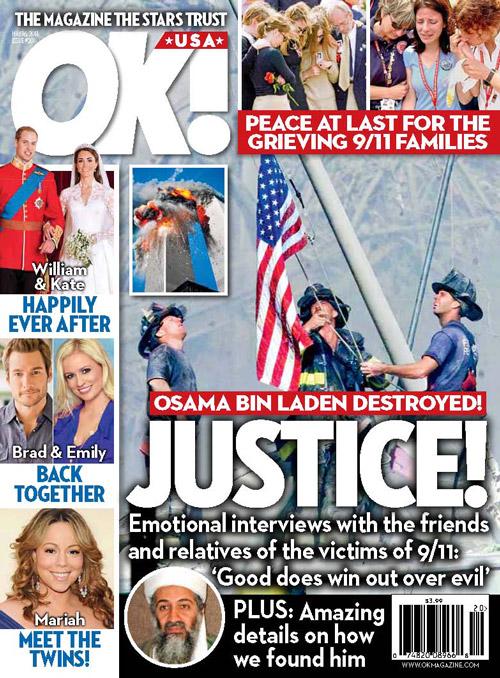 Osama bin Laden: With the death of Osama bin Laden, the U.S. closes the book on the world's most wanted terrorist. How a team of Navy SEALs invaded the terrorist's secret compound and ended his cruel reign. Plus: America rejoices! How the country came together to applaud the long-awaited news.
Royal Wedding: OK! brings you every magical moment as Prince William marries Catherine Middleton at Westminster Abbey. From her gorgeous dress, to the celebrity guests to the most memorable moments, OK! has all the scoop on the royal couple's big day!
Article continues below advertisement
Mariah Carey: The twins are here! The pop diva welcomes a son and a daughter with hubby Nick Cannon, and OK! has all the details.
The Bachelor: Brad Womack and Emily Maynard reunited… but for how long? The stars of The Bachelor met for a quiet weekend in Texas to try to work out their differences.
Melissa Rycroft: Body after baby! The star of The Bachelor opens up to OK! on what she did to get within 5 pounds of her pre-pregnancy weight.
Summer Dresses: Dress lovers, rejoice! This spring, when it comes to hemlines, anything goes! From mini to maxi and knee-length to tea-length, OK! features the best trends for summer.