NEWS
Justin Bieber Addresses DNA Test on 'The View:' "We're Bringing Too Much Attention To This Girl"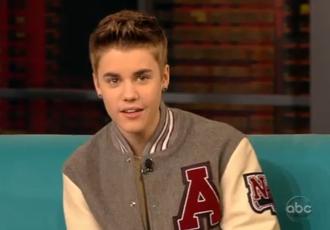 Justin Bieber is making his NYC press rounds and the teen dream stopped by 'The View' today to visit the ladies. While on the talk show, he addressed lots of subjects including his wardrobe, Selena Gomez, his paternity scandal and his mustache!
Sherri Shepherd had a very important question for Justin: how does he keep his pants up? He answered honestly saying, "You learn how to waddle basically."
When Elisabeth Hasselbeck asked about GF Selena, he said "she's amazing", but didn't want to go any further. "Well here's the thing, you're putting me on the spot here," he said. "Here's the thing, people know that we're dating and stuff but I like to keep a certain privacy, then it's special." He continued, "I have to have something special to me that I don't share with everyone else. I have to have something to myself."
Article continues below advertisement
OK! NEWS: GET THE LOOK? JUSTIN BIEBER'S 'TODAY' SHOW SWEATER COSTS $1650!
Barbara Walters had to ask about his paternity scandal and DNA test he just took. Justin said, "You always have to keep your head high and be positive about it."
About the DNA test he remarked, "I didn't have to do it. I did it because I wanted to, I wanted everything to be out in the open like, listen, there's no reason for this to even be a discussion."
"It shouldn't even be a discussion," he added. "If I have to take it, if I don't have to take it, I'm going to take it just because it just made sense. I don't know if she's going to take it or not, I don't even know."
Justin even said, "I think we're bringing too much attention to this girl."
OK! NEWS: JUSTIN BIEBER TAKES PATERNITY TEST TO PROVE MARIAH YEATER WRONG
On a lighter note, the subject of his mustache came up. "Do you see this mustache? It's Movember! I'm growing it out. It's my mustache." "(It's) mostly around the upper lip area." He said he'd shave it when the month ends and joked, "Then it will take another year and a half to grow back!"