NEWS
Justin Bieber Birthday: 17 Celebrity "Beliebers"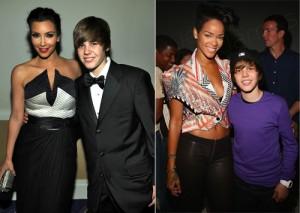 Justin Bieber has been busy spreading the faith over the past year and many more "belieber" under his belt now that he's 17! In honor of The Biebs's 17th birthday today, OK! is taking a look at 17 self-professed star "beliebers." If you don't have the "Fever" yet, these celebrities may change your mind!
OK! VIDEO: WATCH JUSTIN BIEBER KISS SELENA GOMEZ OUTSIDE OSCARS AFTER PARTY!
Some have "beliebed" in him since the very beginning, while others have become "beliebers" since the release of his new movie, Never Say Never.
Article continues below advertisement
And it's not just the ladies who love him! Justin has gathered up a good group of male beliebers who have also been mentoring him along the way.
Take a look at the 17 celebs who "belieb" in the Biebs in the gallery.
OK! VIDEO: JUSTIN BIEBER & SELENA GOMEZ HEAD TO OSCARS AFTER PARTY...TOGETHER!
In any case it's clear there's no cure for "Bieber Fever" except to just have more Bieber!
Why are you a "belieber?"