NEWS
Watch Justin Bieber & Selena Gomez Head to Oscars Party...Together!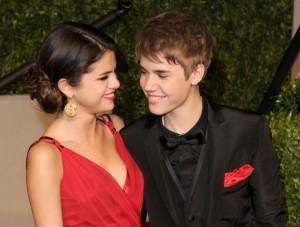 Justin Bieber and Selena Gomez finally took their relationship public by attending Vanity Fair's Oscar Party together! The Biebs held tightly onto Selena as he posed with her on the red carpet Sunday night. Perhaps taking the relationship public was stressful for The Biebs as some fans captured him and Selena on tape leaving a hotel together early on Sunday — not in a good mood.
OK! GALLERY: OSCAR WINNERS PARTY WITH VANITY FAIR & YOUNG HOLLYWOOD STARS
Article continues below advertisement
Justin and Selena looked amazing at the Oscar party both wearing coordinating Dolce & Gabbana ensembles. Selena showing off a stunning red dress and Justin matching her with his pocket handkerchief.
Are you happy they took their relationship public or do you wish they weren't a couple?
But the whole day wasn't filled with smile.
OK! GALLERY: NATALIE PORTMAN BEAMS BRIGHT AMONG FELLOW OSCAR 2011 NOMINEES!
Some Beliebers with camera posted a YouTube video of Justin and Selena leaving the St. Regis Monarch Beach hotel in Dana Point, Calif. on Sunday.
Even though girls are crying and begging for a photo, Justin focused his attention of Selena and didn't want to be on camera.
But before you stop beliebing or think Never Say Never didn't show the true, the 16-year-old star made things right in the end and took one quick picture with a group of the girls.