NEWS
Justin Bieber Covers Forbes Magazine: "Social Media Helped Launch My Career"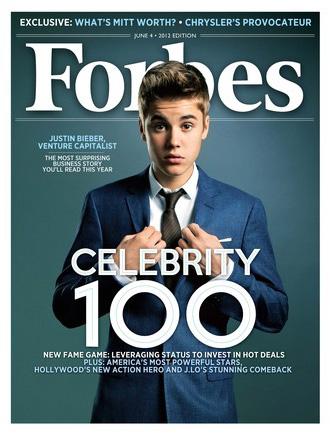 Jennifer Lopez may have gotten the number one spot on the Forbes Celebrity 100 list this year, but Justin Bieber got the cover.
Justin (who was number three on the list) gave Forbes Magazine some insight into his life and his mass fortune.
Since breaking out three years ago, Forbes reported that Justin has sold 15 million albums, grossed $150 million on tour dates and sold more than $60 million of his debut perfume Someday in its first six months. Combining all of this, Justin has earned $55 million this year and $108 million over the past two.
Article continues below advertisement
Believe producer Timbaland told the magazine, "I think he's half-human and half-alien."
OK! NEWS: JENNIFER LOPEZ TOPS 'FORBES' 2012 CELEBRITY LIST RAKING IN $54 MILLION
The Forbes Celebrity 100 doesn't just take into account money but also social status.
Justin has 21 million Twitter followers (just behind Lady Gaga) and 43 million Facebook fans.
He also invests in what he believes in, including twelve private tech start-up companies.
OK! NEWS: USHER AND JUSTIN BIEBER TALK RELATIONSHIP: "HE KEEPS ME ON MY FEET"
"Each week I'm learning something about my business and what I need to know for my career," Justin revealed.
In terms of technology and his fans, Justin said, "It used to be there was a mystery to the artist. Now there's, like, no mystery — the fans want the connection, they want to see you Instagramming at a coffee shop in the morning."
"Social media helped launch my career. Without the Internet and without YouTube, I wouldn't have gotten the chance to put my music out there and have people hear it."