NEWS
Usher & Justin Bieber Talk Relationship: "He Keeps Me On My Feet"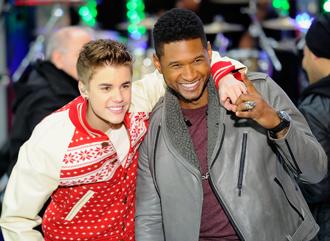 Justin Bieber is always up for trying new things. The star who is set to release his new album Believe June 19 covers Billboard Magazine with mentor Usher and explains his new sound and how the guys continue to support each other.
"I don't want to lose my young fans, but I also want to mature and develop," Justin said. "I always keep one foot out of my comfort zone, trying new things and experimenting — if you don't, people will get bored. Seeing the smiles on people's faces and how I affect them when I perform makes me want to give them the absolute best experience they can possibly get."
Article continues below advertisement
Usher responded happily, "I'm happy that Justin knows that without me even saying that. You really do want to make sure that you bring along fans that have always been there, but make sure that you grow and chart new territory."
OK! NEWS: JUSTIN BIEBER REVEALS "TWENTY EIGHT, THAT'S A GOOD TIME TO HAVE A FAMILY!" TAKE NOTE SELENA GOMEZ!
"Usher played me a lot of new songs in the studio the other night, and I'd never heard anything like them before. That's what I love: He could just come out with the R&B-pop records people expect, but this approach will prove even more powerful," Justin revealed to the magazine.
Justin also revealed that he doesn't have much down time to "cut loose" like Usher does.
"I'm in the studio every night. I really don't have time to cut loose!"
"Honestly, I might go to a strip club, a rave, or a festival — but he's not able to do that yet," Usher said. "For me, it's about places that I travel. When I'm in a foreign country, I listen to the radio — I want to know what they're listening to. Going to South America, Australia, and Africa and just trying to understand their cultures, that spills into your music."
Article continues below advertisement
How do the two hang out together? Go-karting of course! Justin spilled, "We go go-karting a lot. I'm a blow up Usher's spot a little bit: The first time, he asked for the fastest car, so he won — but the next time, I asked for the fastest car."
OK! NEWS: JUSTIN BIEBER GRADUATES HIGH SCHOOL: "I'M FREE!"
"Usher and my manager got me this electric car called a Fisker and presented it to me on Ellen. That was crazy! I had no idea. Then I sent it to West Coast Customs: They chromed it out and put lights on the bottom so it looks like a spaceship. I get chased no matter what, so I might as well look cool doing it!"
What advice has Usher given to his young protege? "He takes me back to Michael Jackson, but also Fred Astaire and all these other people that I probably would've never looked up," Justin said.
"And Usher's always told me, "You need to work hard, but also play hard. Strive to be the best, but have fun doing it."
"What's great is that in Usher, I have a mentor that's been doing it so long and has been successful in everything that he's done," Justin added. "He's made some mistakes, too, but he's learned from them, so he can tell me what to do and what not to do."
One thing Usher has always told Justin is that he'll be there for him — no matter what.
OK! NEWS: JUSTIN BIEBER REVEALS SONG WITH DRAKE: "IT'S ONE OF MY FAVORITES"
"He keeps me on my feet. The one thing I do see in him is the passion and the determination to really tell an incredible story and articulate himself as an artist."
"Whether Justin is up or down, I want to be that person who he knows will be around for him no matter what: "Whether the world is singing your song or not, you got a brother that rocks with you in me." All great things in life happen because of a family structure, in some way—this is a dynasty, a movement, a magic that will be successful because we both love what we do and share that bond. We started that way, and it's been that way to this day; that can't be replaced."