NEWS
Justin Bieber Hugs Girl, Makes a Million Others Jealous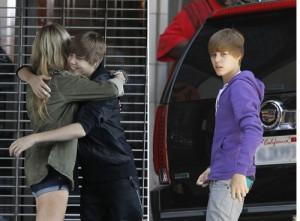 Take it easy, Justin Bieber fans. Just because the smooth-haired one was hugging up on some girl yesterday in L.A. doesn't mean his feelings for you aren't real. In fact, the girl in question seemed to be an actress taking part in The Biebs' new music video for "U Smile," which he was filming in downtown L.A.
OK! GALLERY: THE MUSIC WORLD BRINGS IT ON FOR 2010 MTV VMAS
Besides embracing a girl who is no doubt the object of intense envy right about now, J. Biebs also spent time leaning thoughtfully and showing how purple really brings out those flecks of soft gold in his big, luminous eyes.
Article continues below advertisement