NEWS
Justin Bieber & LMFAO Team Up for "Party Rock Anthem" 2011 AMAs Performance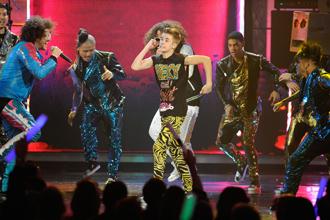 Article continues below advertisement
The 17-year-old "Mistletoe" singer rocked the stage in a "SEXY" T-shirt and Zumbaz pants. His girlfriend, Selena Gomez, cheered him on from the audience!
And while Justin may be sexy and knows it, he ran off the stage when "Sexy And I Know It" came on and let a new guest take over.
David Hasselhoff, wearing smiley-face underwear, came out to dance.
"We love you party people! I want to wiggle with David Hasselhoff!"