NEWS
Justin Bieber Paternity Suit: Mariah Yeater's Lawyers Claim to Have "Credible Evidence"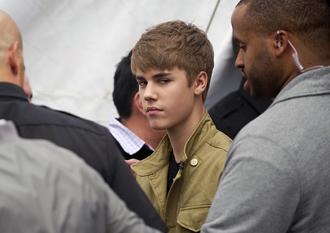 Justin Bieber and his camp have been standing firm and united in their denial of the paternity lawsuit against him, but it doesn't look like the baby-daddy claims will end just yet.
This week, Star magazine released court documents filed by Mariah Yeater, the 20-year-old woman who said in the papers filed in San Diego that Justin Bieber was the father of her three-month-old son.
OK! NEWS: JUSTIN BIEBER SAYS NO TRUTH TO BABY DADDY CLAIMS — "NEVER MET THE WOMAN"
Article continues below advertisement
She said in the papers that she had unprotected sex with the then 16-year-old pop star backstage in a bathroom at the Staples Center, following one of his concerts in October 2010.
This morning on the Today show, Justin slammed the rumors telling Matt Lauer, "I'd just like to say, basically, that none of those allegations are true," Justin said. "I know that I'm going to be a target, but I'm never going to be a victim."
But Mariah's lawyers — Lance Rogers and Matthew Pare — aren't letting up.
They spoke about their client's case on CNN's Headline News on Thursday.
"In the relevant time period, she wasn't having sex with anyone else," Pare said, via Radar Online. "That's how we know Justin Bieber is, in fact, the father of the baby... we need the paternity test to verify that scientifically, 100 percent."
He added that his team has been "left with no other choice" than to file the paternity suit; calling JB's camp has been "unresponsive."
So what if the paternity test came back negative? How would they handle the penalties?
OK! NEWS: JAY SEAN TALKS ABOUT JUSTIN BIEBER BABY SCANDAL
Pare said due to the evidence, the odds of that happening are "highly unlikely."
"There's credible evidence that supports he is the father," Pare said.