NEWS
Justin Bieber Reveals He Fell Asleep During 'Hunger Games' & Confirms Summer Tour!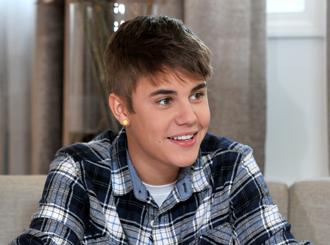 Justin Bieber was awake last night for the release of "Boyfriend," but fell asleep in The Hunger Games! Justin revealed to Ryan Seacrest this morning that he couldn't make it through the film.
"I went at 12:45 and fell asleep because it was so late and I had worked all day. I thought it was cool to go to a 12:45 premiere but it was a two-hour movie." Maybe he fell asleep also because he didn't see it with his GF Selena Gomez, who instead went on a movie date with BFF and Spring Breakers co-star Ashley Benson. Ashley Tweeted a photo of the two girls!
Article continues below advertisement
JB even updated Ryan on his own future acting career. "We're working on scripts right now," he said. "Mark Wahlberg and I are working on a script right now. It's not fully done, but we're going to be doing a movie together soon."
OK! NEWS: LISTEN TO THE FIRST TEN SECONDS OF JUSTIN BIEBER'S "BOYFRIEND"
Beliebers can't wait for his major movie, but before that they want to know when he will tour! "After I finish my album and my album comes out, I'm going to rehearse for my tour and then I'm going to go on tour," Justin confirmed. "So probably… this summer. End of summer."
He also revealed a new fragrance is coming after the megasuccess of his Someday. "Yes, we're working on it. We're doing another one. It's just a branch off of that."
OK! NEWS: MARK WAHLBERG REVEALS HIS FILM WITH JUSTIN BIEBER IS ON ITS WAY
Ryan announced this morning too that Justin's artist Carly Rae Jepsen is going to be playing the annual Wango Tango concert in California and he got JB to agree to introduce her there!
"She's such an organically good person, She's just happy," Justin said about Carly." She's just a good person. I'm really happy that this is all happening for her."
About the hit single 'Call Me Maybe," Justin said he knew it was going to be huge. "I was, like, if this is No. 1 in Canada, there's no way this can't be No. 1 everywhere."