NEWS
Justin Bieber Says He's "Unpunkable!" Will Taylor Swift Get Revenge?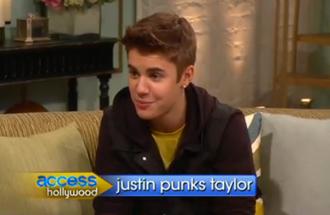 Ashton Kutcher's Punk'd returns tonight and the first victim is none other than country cutie Taylor Swift. The punk-er Justin Bieber spoke to Access Hollywood about making his good friend the victim.
Justin made Taylor believe she blew up a wedding! "They were getting married on a boat and she thought she blew it up. I told her we were going to be doing music," he said.
"So she got there and I told her I got these fireworks from Japan and come light them up with me."
Article continues below advertisement
Check out Justin's interview with AH below!