NEWS
Justin Bieber Talks Getting "The Stamp" From Mariah Carey on His Christmas Album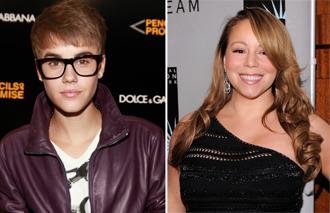 Justin Bieber is back on the promotion trail for his upcoming album, Under The Mistletoe. A big part of the new Christmas album is his highly-anticipated duet with the legendary Mariah Carey.
When asked about the song by Access Hollywood's Billy Bush, Justin remarked how happy he was to just collaborate with her.
"I was very honored. I really wanted to do the song," he shared. "I didn't wanna like… I couldn't do it better than her. To have her on the song with me is like, yea, it gives me the stamp."
Article continues below advertisement
How did Justin get to perform the Mariah classic "All I Want For Christmas?"
"She actually suggested it," The Biebs revealed. "We were going to do another song. I was going to ask her to do a song together for the Christmas album and she was like I actually have this new version I want to do of "All I Want For Christmas" and I think it would be great on your album. So we did it."
Justin also explained how the whole thing came together.
"She had done it already, had done some parts on it. Then she sent it to me to do the second verses and then she went back in and did some other stuff on it."
When Billy asked if they were ever together while recording, Justin answered, "no."
Justin also talked about why he chose "Mistletoe" as his first single.
"It's very fun. It's a very fun Christmas song. A lot of people can relate to it."
Article continues below advertisement
When Billy asked him why a Christmas album, Justin told him the ideas been floating around for awhile, but since his new album "Believe" wasn't coming out for awhile, he found the time to do this special project!
"I'll write some originals, we can do some covers and we were like yeah let's do it."
He also explained how proud he was that part of the proceeds are going to different charities. He said to his record company, "Let's try to make it as much for charity as we can."
"They (Universal) agreed to have some of the portions go to charity and that's never happened before so it's really special."
Under The Mistletoe comes out Tuesday, November 1!