NEWS
Justin Bieber's Working With Drake & Kanye West for New 'Believe' Album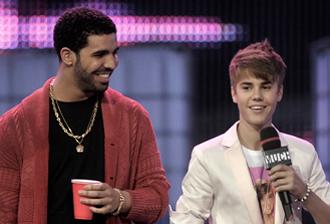 Justin Bieber's Christmas album, Under the Mistletoe, hasn't come out yet, but he's already working on his third studio album — and he's getting help from some of hip-hop's biggest stars!
During an interview with UK's Capital FM, Justin shared exciting news about who he will be working with for his new album.
"I'm working with a lot of cool people. I'm working with Kanye West. Drake is going to work on the album with me," Justin said.
Article continues below advertisement
"I just learned about picking the right songs and making sure that I create a sound that people aren't really used to hearing so that it's new and fun and people enjoy it," he added.
Justin's third album is reportedly titled, Believe. But maybe he should have titled it Belieb!
Under the Mistletoe will hit stores Nov. 1 and Believe will come out in early 2012.