NEWS
Justin Timberlake Just 'In Time' to Chat Up Robert Pattinson & Kristen Stewart at Nobu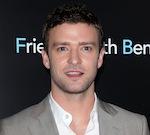 While celebs at Comic-Con were busy enough running from panel to press conference over the weekend in San Diego, Twilight's Robert Pattinson and Kristen Stewart were able to escape the madness for a private dinner on Thursday night at Nobu, where sources tell OK! that the duo had a run in with Justin Timberlake and Vince Vaughn.After making his way through a sea of fans and photographers coming from Wired Cafe, Justin took a break from promoting his new flick In Time to grab a bite to eat, "sitting at a table in the private dining room with a group of friends including Vince Vaughn and dining on a feast of the restaurant's dishes such as lobster carpaccio," an eyewitness tells OK!.
Article continues below advertisement
OK! NEWS: JUSTIN TIMBERLAKE & AMANDA SEYFRIED GET THEIR FLIRT ON AT COMIC-CON
Although the Social Network actor seemed like all he wanted to do was eat, as Justin was overheard saying, "I just want some sushi, man!" when he finally made his way inside the Hard Rock Hotel, the 30-year-old still made time to say hello to a few friends at Nobu.
"Justin chatted with Rob and Kristen, also sitting inside the closed-curtain room at a different table, saying a quick hello and then leaving them to their meal. They seemed to get along well," a source told OK! of the star's interaction during dinner.
OK! NEWS: WATCH JUSTIN TIMBERLAKE & AMANDA SEYFRIED'S COMIC-CON IN TIME TRAILER
While the Twilight pair slipped out of the restaurant after enjoying a private, quiet meal together, Justin's table relaxed with "fruit sake and beer," and even after a long day at work, the witness tells OK! that he was a "really nice guy, polite, and super chill."
Wonder if we'll be seeing Rob, Kristen, and Justin starring together on the big screen anytime soon?